SGR launches 1.5°C living targets – sign up to pressure governments to act on climate
Scientists for Global Responsibility (SGR) has constructed a set of ten evidence-based 1.5°C living targets that together will bring an individual's lifestyle in line with the Paris climate goal. 
Responsible Science blog, 20 September 2022
 
At the Paris climate summit in 2015, governments agreed to keep the global temperature rise below 1.5°C.  In order to have a reasonable chance of meeting this temperature target, scientists have estimated that everyone in the world will need, on average, to have an annual 'lifestyle carbon footprint' of less than 2.5 tonnes of CO2 equivalent (tCO2e) by no later than 2030 (and probably much sooner) – with further reductions in later years. 
With that in mind, Scientists for Global Responsibility (SGR) has constructed a set of ten evidence-based 1.5°C living targets that together will bring an individual's lifestyle in line with this carbon footprint. The targets have been developed for people resident in the UK, but several of them can also be applied internationally. Many people will find at least some of the targets difficult to meet – and this emphasises the need for governments and businesses to do much more to help bring them into reach. For example, greater financial and technical support for installing home insulation and heat pumps, coupled with better building energy efficiency standards, will make it easier to hit the target for home energy use. Better and cheaper surface public transport will greatly assist a move away from driving and flying, which are key elements of two of the other targets. Indeed, green economic reforms at the macro-scale would be transformative across society.
Up until now, governments and industry have focused on technological change as the main (and sometimes the only) route through which carbon emissions can be reduced – sometimes even saying that we won't need to change our lifestyles. But this approach is failing badly and time is rapidly running out for the world to keep below – or even near – the 1.5°C goal. Recent research has demonstrated that some behaviour change is necessary to meet over half of the required emissions reduction in the UK. Meanwhile, many promised new technologies are barely out of the laboratory and are highly unlikely to be scaled up in time, if at all.  
SGR is particularly encouraging scientists and engineers to sign up to the targets as they are especially influential within society - and this complements our Science Oath for the Climate. But everyone is welcome to add their name to as many of the ten goals as they can. The more people sign up, the more influence we will have in pushing behaviour change up the political agenda.
Please commit to as many of the targets as you are able to. You can save time by signing up to the easiest targets now then editing your response to add others later via the email link you'll receive on signing up. As mentioned above, signing up to all ten of the targets would bring your lifestyle into line with the 1.5°C climate goal enshrined in the Paris Agreement. Please contact climate@sgr.org.uk if you would like to provide feedback on either the targets or your personal and systems challenges in meeting them. And remember the importance of supporting wider campaigns to reduce carbon emissions across society.
Finally, a massive thank you to everyone who's already made commitments. Strength in numbers will help demonstrate the desire for powerful government action on climate goals. The more voices, the more pressure for progress. Please join in by signing up now. Thank you.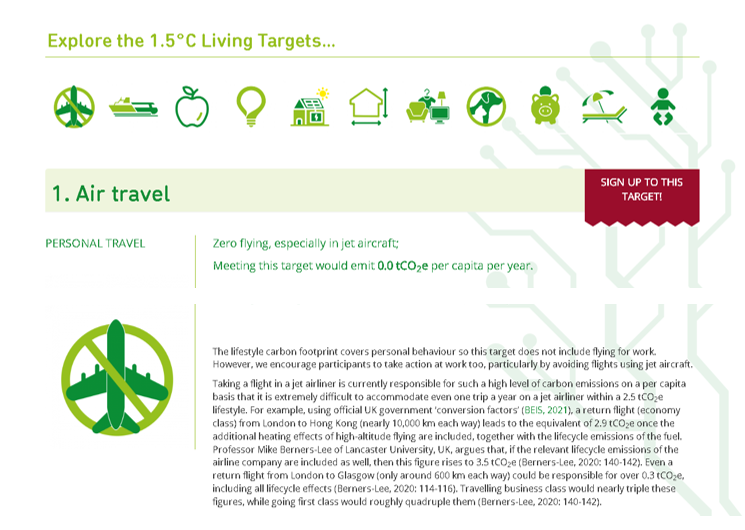 Notes and references
The 2.5 tCO2e limit by 2030 is derived from analysis by the Hot or Cool Institute.
The evidence and analysis that we have used in creating the targets is provided under each one. General analysis and key references are provided here.
The targets have been developed by Dr Stuart Parkinson and Dr Liz Kalaugher at SGR.